TAR SANDS SONGBOOK
a documentary play × with music × ABOUT OIL
Tar Sands Songbook is a documentary play about our unseen relationships with oil.
Written and performed by tanya kalmanovitch
An illuminating work of documentary theater, The Tar Sands Songbook asks us to reconsider our unseen relationships with oil. Creator Tanya Kalmanovitch knows these relationships all too well. Born in Fort McMurray, Canada, near the site of the Athabasca Oil Sands, the world's largest bitumen reservoir, she made her decision to become a musician as a teenager because "it had nothing to do with oil." Fort McMurray has since become a flashpoint of international clashes over energy, the environment, and the economy. Kalmanovitch's polyphonic piece weaves together her virtuosic storytelling with an original, improvised score. The words of Indigenous activists, engineers, heavy equipment operators, elders, oil patch workers, scientists, and those of her own family fuel discussions of our past and the powerful forces that shape our future.
CREDITS
Written, composed and performed by Tanya Kalmanovitch. Dramaturgy and direction by Katie Pearl.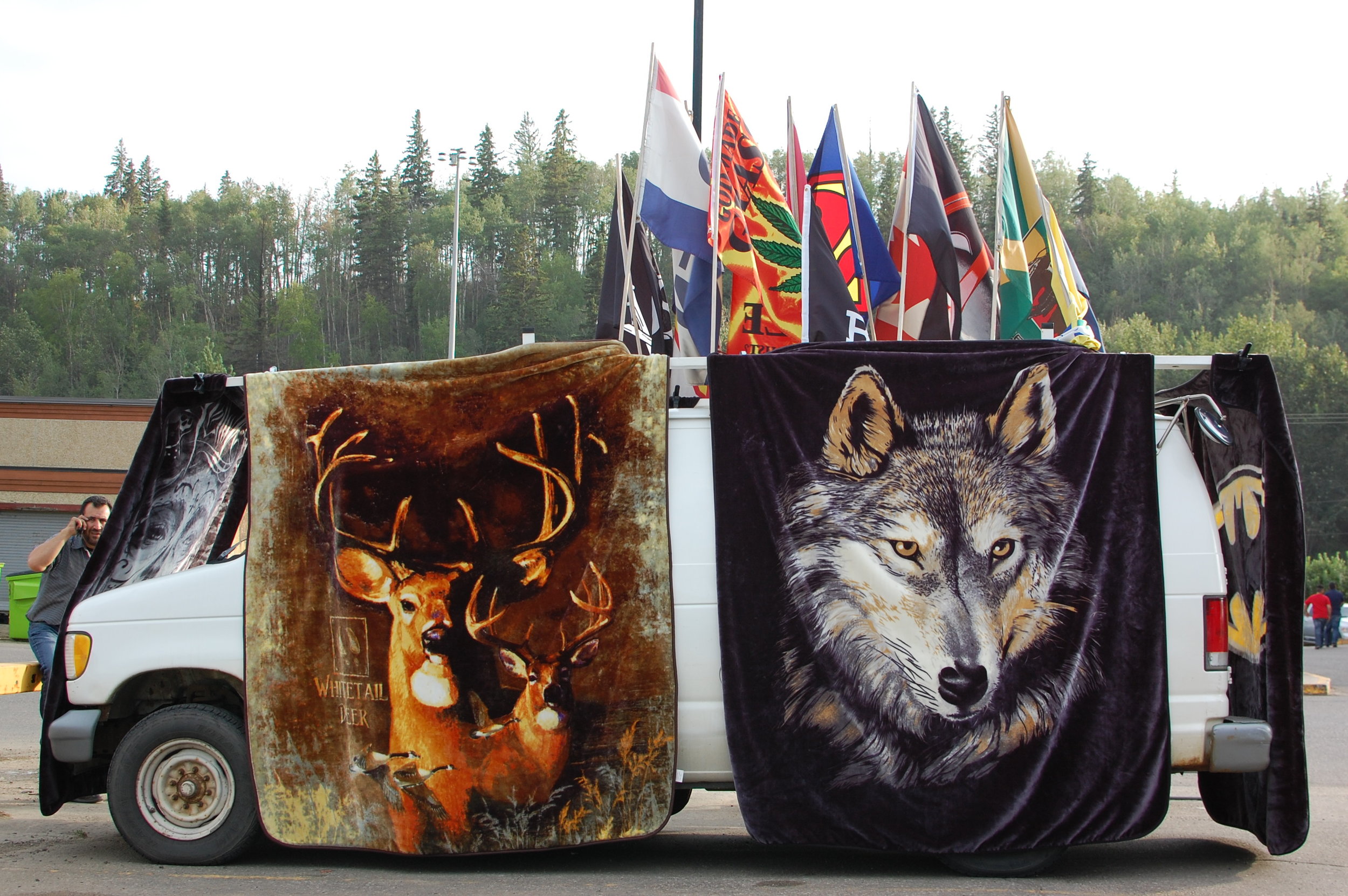 "When I was fourteen years old I decided to become a musician because it had nothing to do with oil."
TAnya Kalmanovitch on the story behind the Tar Sands Songbook
TANYA KALMANOVITCH // Creator, writer, performer
Creator, writer and performer Tanya Kalmanovitch is a Canadian violist, ethnomusicologist, and author known for her breadth of inquiry and restless sense of adventure. Her uncommonly diverse interests converge in the fields of improvisation, social entrepreneurship, and social action with projects that explore the provocative cultural geography of locations around the world. Based in Brooklyn, Kalmanovitch's layered artistic research practice has rewarded her with extended residencies in India, Ireland, Afghanistan, Turkey, and Siberia. Trained at the Juilliard School, her work as a violist bridges classical, jazz and experimental improvised music and has been profiled in Jazz Times, DownBeat, the Globe and Mail and the New York Times. Kalmanovitch's research in theoretical psychology and ethnomusicology has explored the history of science, postcolonial identities and musical globalization and has been published in The American Psychologist, World of Music and New Sound. She is an Associate Professor at Mannes School of Music at The New School, Affiliated Faculty at the Tishman Environment and Design Centre and a 2017-2018 GIDEST fellow. She performs and teaches regularly in North America, Europe, the Middle East and Central Asia, and also serves a faculty member at Boston's New England Conservatory in Boston. Her most recent recording, Magic Mountain (with fellow violist Mat Maneri) is available on bandcamp.
KATIE PEARL // DRAMATURGy, direction
Katie Pearl is a director, playwright, and performer. She is co-Artistic Director of the Obie Award-winning interdisciplinary performance company PearlDamour. For 20 years PearlDamour has pushed the boundaries of contemporary theater with projects such as the 8-hour performance installation How to Build a Forest; Lost in the Meadow, built for a 40-acre meadow at Longwood Botanical Garden; and Milton, created with and performed in small towns named 'Milton' across the U.S. PearlDamour has been the recipient of four Map Fund, two NEA, and a Creative Capital Award. Individually, Pearl directs and creates work with artists across the country. Currently: The Wall with Jessica Litwak, a solo performance with puppets addressing paradox through the lens of the Israeli/Palestinian conflict; The Recovery Project with the recovery community in Statesboro, GA aimed at de-stigmatizing addiction locally and nationally; and Ocean Filibuster, with PearlDamour—an epic Human/Ocean showdown co-commissioned by the American Repertory Theater and the Harvard University Center for the Environment. Katie was the 2017 Quinn Martin Guest Chair of Directing at UCSD, a 2016 Anschutz Distinguished Fellow at Princeton and a visiting lecturer of Socially Engaged Art at Harvard. She is a producer of the documentary The Rest I Make Up, about the visionary Cuban-American dramatist Maria Irene Fornes.. Drama League Fellow, SDC.
READINGS AND WORKSHOPS
Tar Sands Songbook live
APRIL 13, 2019, 7:00 PM
Workshop performance, Cambridge MA. Harvard-Epworth Church in Harvard Square. With Ted Reichman, accordion and piano.
April 1, 2019, 7:30 PM
Workshop performance. Presented by En Garde Arts' Uncommon Voices Series at Commons Cafe, Brooklyn NY. Email Tanya Kalmanovitch for details. With Andrew Boudreau, piano and accordion.
MARCH 2, 2019
Reading, Halifax NS. Bus Stop Theater. Presented by SuddenlyLISTEN. Benefit for the Ecology Action Centre/
DECEMBER 1, 2018, 7 PM
Reading, Concord MA. Email Tanya Kalmanovitch for a spot on the guest list. With Ted Reichman, accordion.
NOVEMBER 5, 2018, 5 PM
Private reading, Manhattan. Email Tanya Kalmanovitch for a spot on the guest list.
OCTOBER 22, 2018, 7 PM
Private reading at The New School, 55 West 13 Street, New York NY. With Andrew Boudreau, piano and accordion.
OCTOBER 16, 2018, 4 PM
Reading at New England Conservatory's Brown Hall, 290 Huntington Avenue, Boston MA. Presented by the Intercultural Institute. 290 Hungtington Ave, Boston MA. Free and open to the public. With Anthony Coleman, piano.
SEPTEMBER 29, 2018, 9 PM
Reading at Soup and Sound, Brooklyn NY.
AUGUST 25, 2018
Reading at the Healing Gathering for the Land and Water, Fort McMurray First Nations, Alberta, Canada.
AUGUST 14, 2018
APRIL 19, 2018, 5 PM
Reading with Tanya Kalmanovitch, Jennifer Van Dyck and Frank Kimbrough, Wollman Hall, The New School. Free and open to the public. Presented by the Tishman Environment and Design Center as part of The New School's Earth Week.
March 1, 2018, 6 PM
Workshop Performance and Panel Discussion. Tishman Auditorium, 63 Fifth Avenue, New York NY. Tickets are free, reservations recommended. Performers: Jennifer Van Dyck, Peter Fernandez, Evan Allen, Tanya Kalmanovitch. Discussant: Dr. Radhika Subramanian. Presented by the Tishman Environment and Design Center as part of The New School Curriculum Disruption Week.
OCTOBER 5 & 6, 2017, 7:30 PM
Workshop performances, Ernst C. Stiefel Hall, The New School. Free and open to the public. With Jennifer Van Dyck, Darian Dauchan, and Frank Kimbrough.
RESOURCES
The resources listed below are a few that I've found helpful in the process of coming to grips with the intellectual, technical and practical issues raised by this project. It is an incomplete list.
Investigative journalist Mike De Sousa's collection of government records collected under Freedom of Information Act requests.
Tishman Environment and Design Center, The New School
Pembina Institute. Research and analysis on Canadian energy policies and practices.
Richard A. Frank et. al., "Profiling Oil Sands Mixtures from Industrial Developments and Natural Groundwaters for Source Identification" Environmental Science and Technology., 2014, 48 (5), pp 2660–2670
Environmental Defense Canada's report: Alberta's Tailings Ponds. One Trillion Litres of Toxic Waste and Growing.
Kevin P. Timoney, The Peace-Athabasca Delta: Portrait of a Dynamic Ecosystem, University of Alberta Press (2013).
Imre Szeman, Ruth Beer, Warren Cariou, Mark Simpson, Sheena Wilson, "On the Energy Humanities: Contributions from the Humanities, Social Sciences, and Arts to Understanding Energy Transition and Energy Impasse", SSHRC Imagining Canada's Future initiative Knowledge Synthesis Grants: Energy and Natural Resources (2016).
Roxanne Dunbar-Ortiz, "An Indigenous Peoples' History of the United States" (ReVisioning American History, Beacon Press, 2015).

Clyde Woods, "Katrina's World: Blues, Bourbon, and the Return to the Source", American Quarterly 61(3), September 2009.
Sarah Quick, "The Social Poetics of the Red River Jig in Alberta and Beyond: Meaningful Heritage and Emerging Performance", Ethnologies 30(1), 2008, 77-101.
StoryCorps: Interview Guide generator
Transom.org. An invaluable resource on recording, editing and producing documentary radio.
HowSound. Transom's podcast about podcasting.
Contact Us
If you'd like to contribute to the Tar Sands Songbook by giving an interview, please fill out the form below. If you're interested in booking a performance of the Tar Sands Songbook, booking Tanya Kalmanovitch for a speaking engagement, or licensing portions of the work, please indicate this in your message.
Please complete the form below